OUR ADVANTAGE: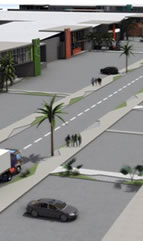 If you settle at the International Free Zone, you will enjoy the following benefits:
Free Trade Zone owners and managers are pioneers in El Salvador, having converted the zone into the fastest growing and most diversified free trade zone in the country, during their more than twenty years of experience.

Ease of access; located at only fifteen minutes from the International Airport, offers all necessary support services.

Flexibility in operations. Option for rent or sale. A variety of regimes. Advice and support in all stages of your operation.

Sufficient land for the future growth of your operation.

Availability of about 40 acres for immediate construction.

The possibility of supplementing customer operations with special warehousing and logistics services, provided by other companies of the Guerrero Group and users of the free zone.